*****************************************************
I jump in the new website three seconds later.
When you do not jump, please click the following URL.
http://www.gmec.co.jp/english/products/index_01_14.html
*****************************************************
Single-Feed Pneumatic Transport
The realization of research and large-scale equipment quantitative pneumatic transport.
Outline
Our pneumatic auto feeders are highly reliable quantitative pneumatic table feeders used for the transportation of powder or grain materials.
The feeders perform continuous high-accurate volumetric feeding (blowing) to the next stage of a process line.
Powder or grains are fed directly through pneumatic transportation piping, thus allowing controlled, adhesion-free transportation.
This earned our feeders a reputation of being 'the standard for quantitative pneumatic feeding' and are used widely used in a wide range of industries.
Our broad assortment, including the PS Type (Single-feed), the NP Type (Multi-feed) and the NPS Type (for Micro feed rate), allows you to choose a feeder that is suited to the specific needs of your plant.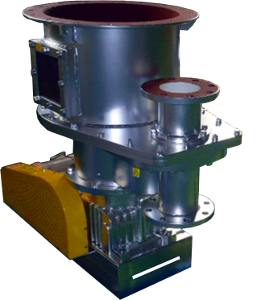 Features
1. Realizes High Accurate Quantitative Feeding (Blowing).
This equipment realizes high feeding accurate and stable blowing through its individual powder mass volume measuring structure.
2. Realizes Stable Quantitative Feeding (Blowing) Even During Long Operation Periods
As the feed mechanism is continually cleaned by the transport air, stable blowing over long operation periods is realized.
Make-up
Accumulated powders are filled into the feeding table (7) from the agitator (4) in a uniform state with no compaction.
Powders fed into the feeding table (7) are cut into uniform volumes, after which they are fed into the transport piping (5) and are pneumatically transported with stability.
The inverter can vary the rotation speed to adjust feed rate.
| | | |
| --- | --- | --- |
| 1 | 減速機 | Reduction Gear |
| 2 | スパーギヤ | Spur Gear |
| 3 | 受盤 | Bottom Pan |
| 4 | 撹拌体 | Agitator |
| 5 | 下部円筒 | Lower Vessel |
| 6 | 輸送配管 | Inlet |
| 7 | 供給盤 | Feeding Table |
| 8 | 輸送配管 | Outlet |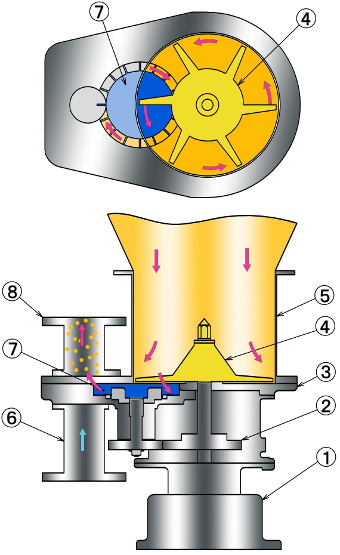 Motor direct connection Single-feed PSD Type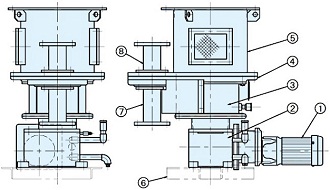 | | | |
| --- | --- | --- |
| 1 | モーター | Motor |
| 2 | 減速機 | Reduction Gear |
| 3 | 本体上部 | Upper Case |
| 4 | 受盤 | Bottom Pan |
| 5 | 下部円筒 | Lower Vessel |
| 6 | 輸送用ベース | Base |
| 7 | 輸送配管 | Inlet |
| 8 | 輸送配管 | Outlet |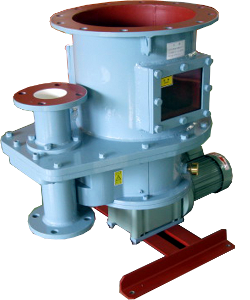 Specification
PS
供給量(Max)
Feed rate
モーター出力
Motor Power
概略重量
Weight
PS-100
20L/h
0.2kW
100kg
PS-200
60L/h
0.2kW
110kg
PS-300
300L/h
0.4~0.75kW
185kg
PS-500
900L/h
1.5kW
500kg
PS-600
3.0M3/h
2.2kW
600kg
PS-700
6.0M3/h
3.7kW
800kg
PSD
供給量(Max)
Feed rate
モーター出力
Motor Power
概略重量
Weight
PSD-300
300L/h
0.2~0.4kW
185kg
PSD-500
900L/h
0.75kW
500kg
PSD-600
3.0M3/h
1.5kW
600kg
PSD-700
6.0M3/h
2.2kW
800kg
Applicable Powder Material List for Feeders
Waste disposal plant
| | |
| --- | --- |
| 活性炭 | Activated carbon |
| 消石灰 | Slaked lime |
| 炭酸カルシウム | Calcium carbonate |
| 特殊反応助剤 | Auxiliary agent |
| 重曹 | Bicarbonate |
Lime hydrating and paper production plant
| | |
| --- | --- |
| 微粉炭 | Pulverized coal |
| オイルコークス | Oil cokes |

Cement production plant