*****************************************************
I jump in the new website three seconds later.
When you do not jump, please click the following URL.
http://www.gmec.co.jp/english/products/index_02_01.html
*****************************************************
For Discharge of Powder Materials from Large Diameter Silo
Realizing stable feeding for powder and granular material required large bore outlet of storage silo.
Features
Secures Stable Output Functionality
By integrating a volumetric feeding table with high quantitative performance, the e-Feeder ensures a higher level of stable output in comparison to traditional discharger.
Uses Less Space
The e-Feeder is compact in comparison to traditional discharger, allowing for a reduction in the amount of space used by the equipment.
Energy Efficient
This product has a smaller agitator cylinder than traditional discharger, making for a simple, saving power consumption design.
Use of the e-Feeder increases equipment-related energy efficiency.
Dual-Direction Output is Possible
As the e-Feeder is capable of continuous stable dual-direction output from a single storage silo, it helps to save space.
Capable of Being Used in Various Equipment Types
As it is possible to integrate a quantitative feeder into the dual-direction output, feeding and output corresponding to the requirements of latter-stage equipment is possible.
Capable of Feeding Many Types of Powders and Materials
Through the combination of the feeding and agitating mechanisms, the e-Feeder is capable of feeding various types of materials including those that are non-uniform in shape, as well as powders with high adhesiveness or fluidity.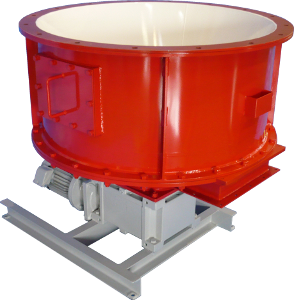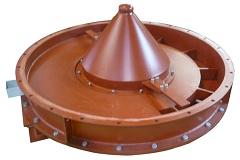 Make-up
Powders collected in the storage tank are loosened by the agitator blades (4), and in a uniform and un-compacted state are fed into the feeding table (6).
Powders fed in this manner are divided into uniform volumes by the scraper plate (8) and are then discharged into the chute (5).
Adjustment of the feed rate is performed by varying rotation speed at the inverter.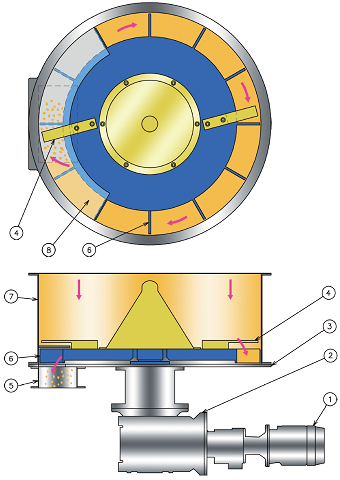 Specification
供給量(Max)
Feed rate
モーター出力
Motor Power
概略重量
Weight
EF-10
10m3/h
2.2kW
1100kg
EF-12
15m3/h
3.7kW
1300kg
EF-14
20m3/h
3.7kW
1500kg
EF-16
25m3/h
5.5kW
1800kg
EF-18
35m3/h
5.5kW
2200kg
EF-20
45m3/h
7.5kW
2700kg
EF-24
60m3/h
7.5kW
3000kg
上記、仕様以外にEF-24を越える大型機も製作可能です。
We can also manufacture large-scale models that exceed the specificationsof the EF-24 unit described above.
Weighing-type Pneumatic-Transport System
Ash Solidification Apparatus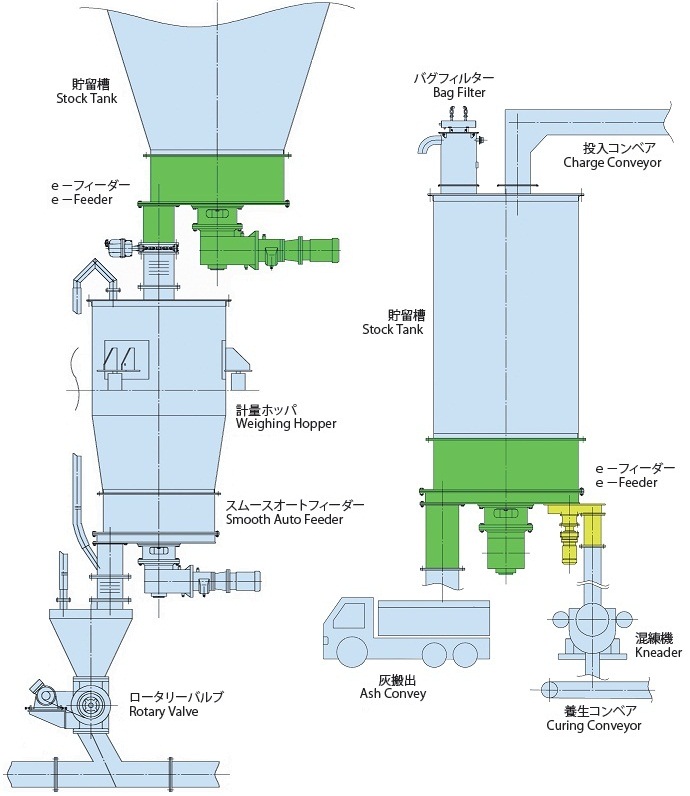 Applicable Powder Material List for Feeders
| | | | |
| --- | --- | --- | --- |
| 消石灰 | Slaked lime | 脱水ケーキ | Dewatered sludge |
| 生石灰 | Quicklime | 石膏ボード粉 | Gypsum board powder |
| セメント | Cement | 肥料 | Fertilizer |
| ウェット活性炭 | Wet activated carbon | 飼料添加物 | Feed grain |
| 炭酸カルシウム | Calcium carbonate | パルプ粉 | Pulp powder |
| 水酸化アルミニウム | Hydrated alumina | 乾燥汚泥 | Dry sludge |
| タルク | Talc | 焼却灰 | Burned ash |
| オイルコークス | Oil cokes | 溶融飛灰 | Melted fly ash |
| 石炭化合物 | Coal compound | 重油灰 | Heavy oil ash |
| メタバナジン酸アンモニウム | Sodium metavanadate | 硫酸第一鉄 | Ferrous sulfate |
| ベンガラ | Jewelers' rouge | AL系無機物 | AL system inorganic substance |
| 食塩 | Salt | 活性炭 | Activated carbon |