*****************************************************
I jump in the new website three seconds later.
When you do not jump, please click the following URL.
http://www.gmec.co.jp/english/products/index_04_02.html
*****************************************************
For the Removal of HCL and Dioxin in the Flue Gas from the Incineration Plant
High reliable chemical injection has been experienced on many air-pollution control systems.
Features
This system reliably contributes to the process from storage to injection of chemicals (Lime, Sodium bicarbonate, Active carbon) in the air pollution control system for the incineration plant.
Through the combination of a specially-designed silo and a highly-reliable pneumatic auto feeder, stable long-term operation is possible.
Compact systems that handle all stages from introduction to transport are available.
Chemical Transportation System
Unit-type Chemical Transportation System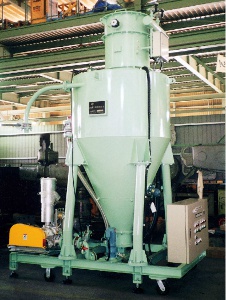 Harmful Gasses Eliminating system