*****************************************************
I jump in the new website three seconds later.
When you do not jump, please click the following URL.
http://www.gmec.co.jp/english/products/index_01_06.html
*****************************************************
Multi-Feed from the One Silo
Individual feed rate alignment for downward-flow equipment.
Features
Can steadily feed even adhesive powder
By connecting a straight stock tank to an agitator vessel, even highly adhesive powder can be steadily fed without bridges, rat-hole.
The actualization of continuous feeding without pulsation
As powder deposited into the feeding table are continuously scooped by the scraper, continuous feeding without pulsation is possible.
Feed rate can be adjusted to match the necessary amount
Because the scraper's depth can be easily altered, feed rate a can be adjusted, according to required value.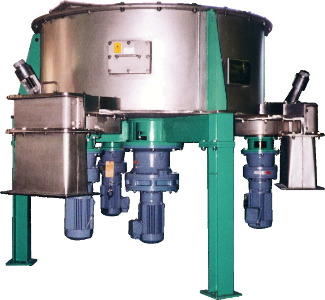 Outline
The Smooth Auto Feeder (ST-type) is a multidirectional quantitative feeder which enables continuous powder feeding from a storage silo to multiple directions (2-4 directions).
Can be adjusted in this feeder, because the agitator unit and the various feeding units are independent, feed rate s conforming to downstream equipment and the space required for install at on can be minimized.
Additionally, because it's a multidirectional feeder, by selecting the feed unit based on powder properties, both natural fall method and pneumatic conveyance method are possible.
---
Make-up
Powders collected in the storage tank are loosened by the agitator (2) blades, and in a uniform and un-compacted state are fed into the feeding table (9).
The deposited powder or grain with fixed amount are scooped out continuously with the scraper (8), and then fed into the chute (5).
A wide range of feed rate settings are possible through joint adjustments to the scraper (7) position and by altering the rotation speed of the feeding table by inverter.
| | | |
| --- | --- | --- |
| 1 | 撹拌用モーター | Agitator Motor |
| 2 | 撹拌体 | Agitator |
| 3 | 撹拌筒 | Agitator Vessel |
| 4 | 供給用モーター | Feeder Motor |
| 5 | シュート | Chute |
| 6 | 供給盤受 | Feeding Table Pan |
| 7 | スクレーパー | Scraper |
| 8 | フィードメーター | Feed Meter |
| 9 | 供給盤 | Feeding Table |
Internal structure may be altered depending on powder and combination method used.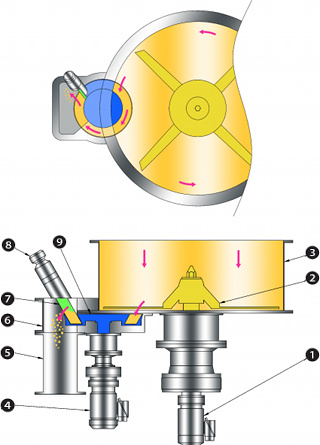 Specification
供給量(Max)
Feed rate
モーター出力
Motor Power
概略重量
Weight
供給機
Feeder Motor
撹拌機
Agitator Motor
STCF-100-2 ~ 4W
500L/h(×2 ~ 4W)
0.75kW
1.5kW
950 ~ 1400kg
STCF-200-2 ~ 4W
3m3/h(×2 ~ 4W)
0.75kW
2.2kW
1200 ~ 1750kg
STCF-300-2 ~ 4W
7m3/h(×2 ~ 4W)
1.5kW
3.7kW
2300 ~ 3300kg
STCF-400-2 ~ 4W
18m3/h(×2 ~ 4W)
2.2kW
5.5kW
3700 ~ 5500kg
Examples of Applications with ST-type Feeders
STCF-100S-2W




---

STECF-200N-3W




---

STRM-5W




---

In rechargeable battery manufacturing process, our feeders are being used for feeding highly adhesive powder.

In incineration plant, our feeders are used for producing slurry blowing chemicals.

In equipment for blowing of supplementary fuels, our feeders are used as distributors to weighing machine.
Applicable Powder Material List for ST-type Feeders
| | | | |
| --- | --- | --- | --- |
| 消石灰 | Slaked lime | ポリエチレン | Polyethylene |
| 炭酸カルシウム | Calcium carbonate | 重曹 | Sodium bicarbonate |
| 活性炭 | Activated carbon | フッカアルミニウム | Aluminum fluoride |
| セメント | Cement | シリカ | Silica |
| 珪藻土 | Diatomite | カーボン | Carbon |
| フライアッシュ | Fly ash | ポリマー | Polymer |
| ソーダ灰 | Soda ash | 酸化チタン | Titanium oxide |
| フラックス | Flux | タルク | Talc |
| 微粉炭 | Galvanized coal | クレー | Clay |
| アルミナ | Aluminum | ベントナイト | Bentonite |
| 樹脂ペレット | Resin pellet | 亜鉛粉末 | Zinc powder |
| 溶融飛灰 | Melted fly ash | メチルセルロース | Methyl cellulose |
| 焼却灰 | Burned ash | 尿素 | Urea |
| 二酸化マンガン | Manganese dioxide | 苛性ソーダ | Caustic soda |
| 乾燥汚泥 | Dried sludge | 酸化鉄 | Ferric oxide |
| 塩化カリウム | Potassium chloride | 生石灰 | Calcium oxide |
| 過硫酸アンモニウム | Ammonium persulfate | 澱粉 | Starch |
| 重油灰 | Heavy oil ash | カオリン | Kaolin |
| ビスフェノール | Bisphenol | カルボキシメチル | Carboxymethyl |
| オイルコークス | Oil cokes | ハイドロサルファイト | Hydrosulfite |