*****************************************************
I jump in the new website three seconds later.
When you do not jump, please click the following URL.
http://www.gmec.co.jp/english/products/index_01_08.html
*****************************************************
For the Feed of Various Forms of Materials
Continuous Feed is Possible without Deformation of the Material.
Features
Allows the feed of flake, pellet, powder, cluster, and fiber materials.
Continuous feed without pulsation is made possible because of its flat type feeding table.
Forcibly extracts material from inside the feeder, therefore no material remains.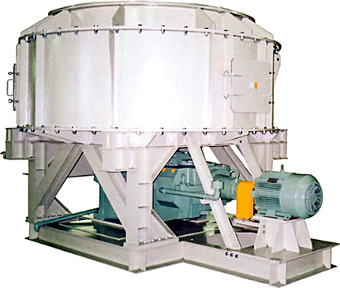 Make-up
Power or granular material stocked in the Hopper is charged and replaced to the Feeding Table 7 from the Upper Vessel 9 , and is moved along the Scrape Plate 6 and discharged continuously from the Exit Chute 4 . The adjustment of the Feeding Volume is done by the revolution change and the adjustment of the Exit Gate 10 .
| No. | Name |
| --- | --- |
| 1 | Motor |
| 2 | Reduction Gear |
| 3 | Vertical Shaft |
| 4 | Exit Chute |
| 5 | Bottom Pan |
| 6 | Scrape plate |
| 7 | Feeding Table |
| 8 | Lower Vessel |
| 9 | Upper Vessel |
| 10 | Exit Gate |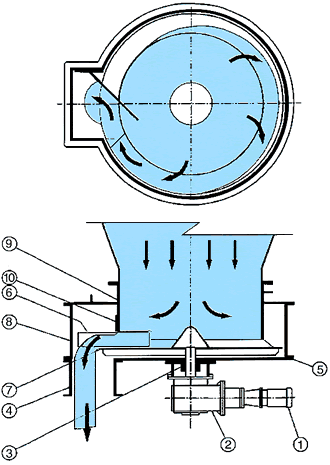 Specification
供給量(Max)
Feed rate
モーター出力
Motor Power
概略重量
Weight
T-03
500L/h
0.75kW
400kg
T-05
2m3/h
1.5kW
700kg
T-07
5m3/h
1.5kW
1100kg
T-10
10m3/h
2.2kW
1700kg
T-15
30m3/h
5.5kW
3200kg
T-20
50m3/h
11kW
5000kg
T-24
60m3/h
15kW
7000kg