*****************************************************
I jump in the new website three seconds later.
When you do not jump, please click the following URL.
http://www.gmec.co.jp/english/products/index_01_10.html
*****************************************************
For the Stable Feed of Molten Fly Ash
Allows the stable feed difficult-to-handle materials such as melted fly ash.
Features
The thin encircling-type feeding table allows stable feed without adhesion or flushing.
Through its powder pressure alleviation mechanism, stable feed is possible without the effects of compacting .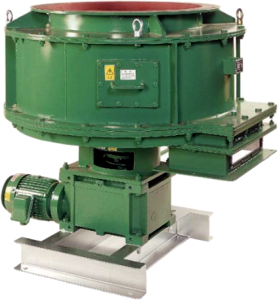 Structure
The powder or grain stored in the silo at the upper stage enters the cylinder (11) through the spout (10) from the center while being roated and the guide bar (9). The powder in the cylinder is untied by the stirring blade (7) and is successively sent to the measure on the feed table (6) through three ports of the leveling plate (7).
The powder filled in the measure is leveled to a certain quantity at the final port and is conveyed to the port of the receiving disk (5) to be continuously dropped to the chute (12).
The feeding quantity is adjusted by varying the number of revolutions of the feed table.
Usage
Fused fly ashes, burned fly ashes (clinker mixed), heavy oil ashes, humidified powder, adhesive powder, etc.

| No. | Name |
| --- | --- |
| 1 | Motor |
| 2 | Reduction Gear |
| 3 | Vertical Shaft |
| 4 | Grand Packing |
| 5 | Bottom Pan |
| 6 | Feeding Table |
| 7 | Scraper Plate |
| 8 | Agitating wing |
| 9 | Guide Rod |
| 10 | Spout |
| 11 | Vessel |
| 12 | Chute |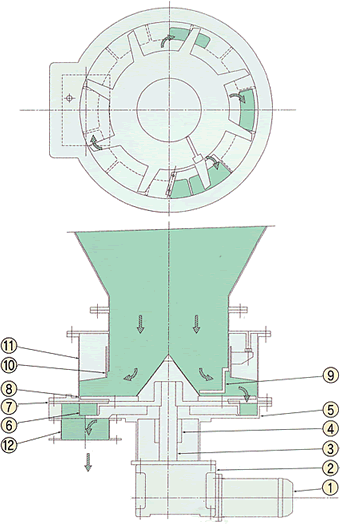 Specification
供給量(Max)
Feed rate
モーター出力
Motor Power
概略重量
Weight
MP-04
1m3/h
0.4kW
500kg
MP-05
2.5m3/h
0.75kW
550kg
MP-06
4.5m3/h
1.5kW
650kg
MP-07
7m3/h
1.5kW
800kg
MP-09
14m3/h
2.2kW
1100kg